SOCIAL MEDIA OPTIMIZATION
Social Media Optimization
Social Media Optimization (SMO) is a way of generating popularity for a website through social Medias like popular online communities and community websites. It is in many ways like viral marketing where a website is made popular through word of mouth created through the use of networking in social bookmarking, video and photo sharing. SMO are the best ways to get traffic to a website as they provide free ways to the surfer. This can greatly enhance the traffic to a website and that too for free or at very little cost. SMO is also called web 2.0 marketing.
Social media optimization has proved to be a better way of attracting traffic to a website and getting the site optimized than Search Engine Optimization (SEO). It focuses on driving traffic from sources other than search engines and thus it gives improved search ranking. It harnesses a lot of free traffic and is much cheaper than SEO.
We know and understand the intricate points of popular social media sites and can provide you with a customized social marketing strategy that will allow you and your company to be visible and active on the social network scene. Whether you seek high exposure for your brand on a local level or want it to develop a global brand, we assure you the results you are looking for through our proven social media services.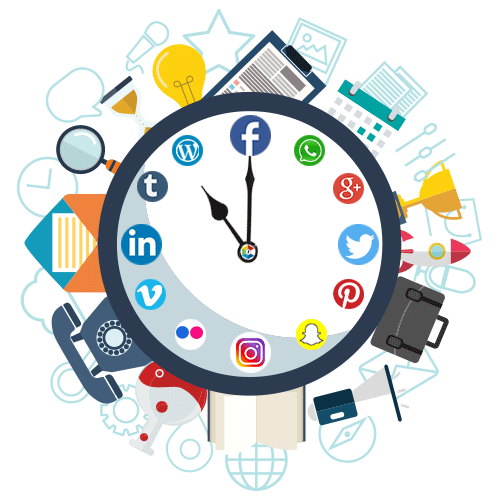 Why you should invest in Social Media Marketing?
The more popular your brand is among a targeted audience, the higher the conversion rate. These days nothing is more powerful than having a dominant presence online among all the social media sites.
Social Media Marketing sites reach million of online users, allow us to help you tap into your target audience. You too can use these Social Media Marketing sites to market your products and services and drive more traffic to your website.
Most of your satisfied customers prefer to recommend your brand to their friends and relatives through social media platforms. Make sure they can find out on these Social Media Marketing Sites.
How can New thought IT Solutions as a social media marketing agency helps your business?
New Thought IT Solutions is a Social media marketing company in India, helping the client create and manage top-performing social media marketing services for small business as well as medium & Big business. At New Thought IT solutions we manage social media networks such as Facebook, Instagram, Twitter, LinkedIn and Google Plus for our clients. We use relevant SMO services to help businesses create better visibility on social platforms.
For businesses (Small, Medium, Big), Social Media seems to be a tremendous opportunity to market their products and services. Our best SMO Services will helps in gaining attention and active leads that can be easily converted into sales opportunities. Companies and organizations, therefore, require social media Optimization Company which understand the dynamics of these platforms to help create an awareness regarding their products and services. New Thought IT Solutions– a Social media marketing company in India catering to all your needs provides in-house experts who are proficient in handling the dynamics of these sites
As top Social Media Optimization Services Company, we acknowledge that as compared to any other form of marketing, social media marketing gives 100 percent higher positive leads towards active sales. Irrespective of what you deal in and how big or small is your business, we help you gain an active presence and an online credibility on the various social media platforms. For this in New Thought IT Solutions we take pride in our capability of ensuring 100% client satisfaction.
Our Services
Virtual marketing
Drive traffic and online brand exposure with virtual marketing and get more audience response on social media networks.
Improve site conversion
A form of video Optimization, this process includes the execution of varied technology used generally by the mobile service providers for improving the viewing experience.
Community participation
Participating in this approach is beneficial to attain the ensured meaning engagement with the communities at national and International level.
Facebook page management
To attract the Facebook audience and grow their number rapidly, we provide an exclusive Facebook page management service.
Social media audit
For social media audit execution, we hold a team of ardent SEO experts to audit, evaluate and rise brand awareness.
Social bookmarking
We do effective bookmarking management and allow the respective client to edit, share, add and annotate bookmarks.
Our outstanding SMO services
We have an expert team of professional SEO specialists offering exclusive assistance across industrial domains.
Innovative and creative SMO
The strategies used by our SEO team will help you to make a notable online presence and gram a greater share in internet market place.